Join Us
---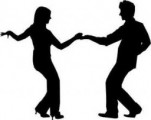 Dances are scheduled on the 2nd and 4th Friday of every month. Other dances may be scheduled on various Fridays.
Dance location is at the B-Dale Club, 2100 N. Dale St., in Roseville, just south of Highway 36 and Dale St.
click here for directions.
Free Lesson with paid admission.
Unless otherwise noted, lessons are at 7:30 p.m. and dances are at 8:30 p.m.
Cost for DJ dances is $8 for members and students and $12 for guests.
Dance details can be found using the Events menu pick above.

Should any dancer feel prior to 9 p.m. that conditions will not be favorable to dancing later that evening, they can request and receive a full refund before 9 p.m.
Membership Benefits
Dancing is a GREAT hobby
Meet interesting people and make new friends
You receive a $4.00 discount on admission for each regular dance, also discounts on special dances.
A chance to win free dance passes at monthly dances
(not anniversary or holiday dances)
Free admission to the club's member appreciation dance
Voting privilege for Board of Directors
Opportunity to serve on the board and help direct Club activities
Click here to download the our club Membership Application form.
For more information about our club:
Email: Info@MWCSDC.com
Mail:    Minnesota West Coast Swing Dance Club
             P.O. Box 131913
             Saint Paul, MN 55113